Animal Success Stories
A Few Kitten Adoption Stories
A Few Cat Adoption Success Stories
If you have a PAWS Happy Tails story you'd like to share, please email your kitty's former foster mom or see our Contact Info for our webmaster's email. We love updated pictures too. *Note we need the kitty's original name in order to post.
Click a letter to find an animal or
view all
.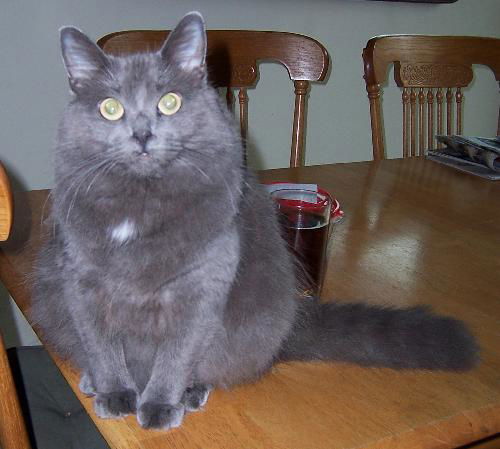 Gabriella
She is doing great! Naturally, very cautious and curious in her new surroundings, but she is not freaked out like my other cat would have been. She is so sweet and affectionate; I love when she puts her paw out to touch my face - melts my heart!. She is a little skittish with sudden noises but overall, I am really pleased with how well she is doing with me and my hubby. I really expected to hear meowing coming from 'her room' last night (I was prepared to go to her. Gosh, it's like having a new baby in the house!) but not a peep out of her. After we got home yesterday and I put her in the spare bedroom, it wasn't long before she was eating and playing a little bit. I brought her downstairs this morning ( I think she kept looking for the other cats too) and she was doing fine until a seagull out back scared her with its shrieking. She went right back upstairs to her safe room, so she knows where to go. So - so far so good! She is such a little lovey; I am very happy and I hope she will be too. My sister-in-law suggested we call her Katerina (Russian Blue/ Kat-erina). That was too good a suggestion, but we are waiting on that one :) Another happy ending? I think so. Thank you again so much! ~Kathy
Goosey and Luci
Sugar & Spice (aka Luci & Goosey) are all settled in and doing marvelously! They are just the sweetest, most adorable, inquisitive little angels! They are eating their dry food and wet food and drinking plenty of water. They found the litter box right away. "We had lot's of fun our first night in our new home with our new mommy. We played and snuggled for hours and wore ourselves out! All weekend we've been familiarizing ourselves with our new home and have been very active. We have run and jumped and played with our toys and on our cat trees and on the fireplace and the couches and the windowsills. Oh boy are we tired! We take lots of naps in comfy places all over the house. We have 2 new brothers, Oreo & Rocky. We are trying to make friends with them, but they mostly just hiss and run away from us. Sometimes when we are sleeping, they come and sniff us. Today they stopped running away and just got way up high where we can't jump yet and watched us play. Pretty soon we'll be great friends! We miss you, but wanted you to know that we are doing really well and are very happy to be in our forever home! Thank you for taking care of us when we were little and sick!!" ~Love, Sugar & Spice (Luci & Goosey). UPDATE: Sugar & Spice (aka Luci & Goosey) are doing so well! They are perfectly happy and healthy.We are really enjoying our first Christmas season together! I love them very much!! Just wanted to drop you a note to say Merry Christmas and Happy New Year!Thanks again for taking such good care of them and letting me adopt them.
Georgie
All is well here in Apopka with our new babies! We love them so much. They were a little scared at first, but they seem to be adjusting now. They are sleeping right now……….so cute! We put up the baby gate, so they have access to our kitchen and laundry room area. We bought them one of those stands like you had. They both have crawled all over it………sleeping in the bottom section right now! They have used the litter box and have been eating and drinking. That's a good sign that they are adjusting. Thanks again! Will keep you posted. Joyce Update 6/13/11: We took them to our vet today and he was very happy to see we had some new pets. He checked them out and said they were very healthy little kittens……as well as being super handsome! We told him about our positive experience with your rescue group. He was impressed with the details of your paperwork. He agreed with your philosophy about the Single Kitten Syndrome. He said he has seen that aggressive behavior happen many times with his customers that have only one kitten. He asked for the name of your organization so he can refer customers when asked about a good rescue group. Hope all is going well for you. Thank you so much for giving us these wonderful babies! Take care! Joyce
Click a letter to find an animal or
view all
.