Fin's Web Page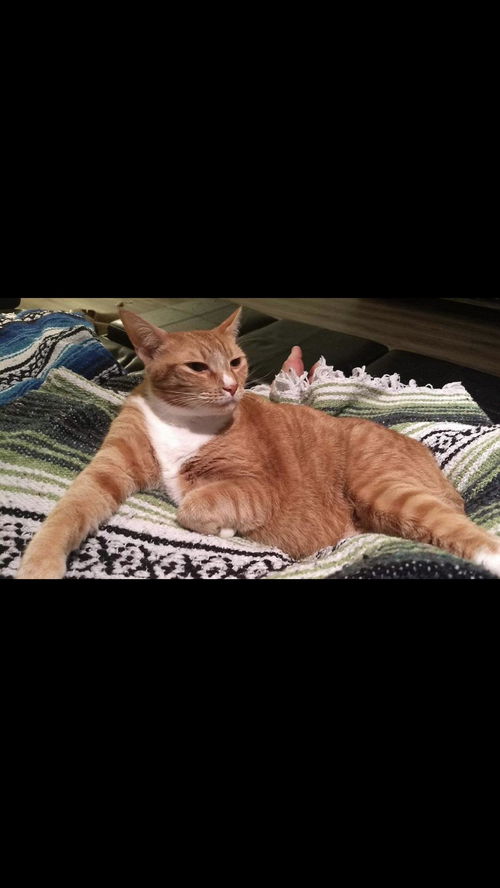 Please Note: This animal is listed as a courtesy to another organization. Please be sure to contact the foster/caretaker for more information about him.
Breed:
Domestic Short Hair / Mixed (short coat)
General Potential Size:
Medium
Current Age:
7 Years 11 Months (best estimate)
Activity Level:
Moderately Active
Indoor or Outdoor:
Indoor Only
Fin must be adopted with his companion,
Coconut
(available for adoption).
Description:
This is a courtesy listing for a family who is relocating overseas for a 1 year volunteer assignment. They have 2 cats to rehome in October 2021.

The cats have not been around dogs or children.

Fin is a big, fat, dopey, orange boy who is scared of his own shadow but sweet as can be once he gets to know you. Smarter than he wants to admit. Will eat ALL the food if you let him. Favorite way to be held is on your shoulder like a baby.



Fin is a little bit of a scaredy cat, but once he gets to know you he is very sweet. He would normally sleep on a pillow next to his owner most nights. He sleeps a lot but will get playful in the morning especially. He loves attention and generally is happy to be pet and will roll right over for a tummy rub.





Fin does need to have his glands expressed about every 3-5 months.



His buddy is Coconut - see her listing also!

Contact

email is KIMK5119@icloud.com






Other Pictures of Fin (click to see larger version):