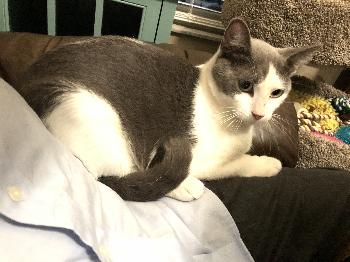 Parker
Parker came to us from Park St, covered in mange. He couldn't even open his eyes! See his original listing for the progression of healing....it's quite astounding.
Having dealt with attitudes of street cats for years, it seemed to Mona that Parker had a home early in life but got put outdoors and left to fend for himself. He was not afraid of household noises, other cats, or dogs.....he was just wary of people. His first instinct was "flight".
So, after his healing, and subsequent trip to the vet for vaccines and surgery, he was allowed out and about with other cats. He became much more confident and definitely wanted to be a lap cat!
When we were contacted by an adoptive family, they were interested in another kitty. After reviewing the application, Mona felt Parker was the best fit.
The adopters came over and Mona held onto Parker, because he wanted to run. This is just his first instinct, again...."flight". After a couple of minutes of petting, he was fine and wanted to be around these new folks. He will probably be like this for while, yet, with any new people who come in to his home.
Parker's adopters emailed Mona within minutes of getting home with him. He settled in as if he had been there before. Right on their laps!! It was awesome!
His adopters had this to say right after they got home: "He's a keeper". They sent pictures of him on a lap already :)
Then the next day:
"...he's really settled in, big time lap cat, and came running out to [greet] me."
"Thank you Mona, You did an amazing job with Parker, and he's an amazing addition to our family. We couldn't be happier. We believe aliens have taken him over because you can actually carry him. No issues with Trixie [dog] or KC [cat]. He's also quite a lap cat and routinely moves from lap to lap."
Pretty Girl
"Pretty Girl" aka Simone has adjusted really well to life at our house. She took a little bit to adjust (which is understandable), she still sometimes gets scared by my roommate's cat or unexplored parts of the house, but has been surprisingly brave with new people, loud noises, and being picked up on occasion. Currently, she greets my roommate and I whenever we come home as well as any guests we might have around that want to say hi. She often follows me around the house talking to me and has had no trouble laying claim to her own private kitty room (the guest bedroom). She has been a wonderful addition to the house and a joy to have around! I have included a couple of pictures of her with this email. Thanks again for everything! ~Danielle