Animal Success Stories
A Few Kitten Adoption Stories
A Few Cat Adoption Success Stories
If you have a PAWS Happy Tails story you'd like to share, please email your kitty's former foster mom or see our Contact Info for our webmaster's email. We love updated pictures too. *Note we need the kitty's original name in order to post.
Click a letter to find an animal or
view all
.
Tessa
I am a true case of it's all in who you know, because one of the PAWS volunteers is my family's babysitter. They wanted to get a new cat for the kids because the other cat in the household was old and not doing well. Because Anthea knew the family and the household, she was able to make a purrfect match. Everyone always assumed I would be adopted right away because I am so sweet and very pretty, but no one filled out an application on me. It took 27 trips to PetSmart and a personal friendship between one of the PAWS volunteers and my family, but I finally went to a wonderful home with kids and other pets to play with. I am thankful for the dedication of everyone at PAWS to find me a home.
Trevor
He is doing Great. We have a 14 year old female kitty. She likes to sleep in the back room, so we have been closing that door and letting him free when she's in the back. Taking turns out and about. They have met and he growled and she hissed. My daughter is visiting, so she is sleeping in the room with Trevor. He is his curious self. He is already friends with everyone. Someone is always home to spoil him since my mother-in-law lives with us. He is a perfect fit for our family. Our kittie has always had another cat around, and her friend (also 14) just died in October. He was free about the house day and nite after only 4 days. He still growls a bit when faced to face with our older female kitty. They now will get nose to nose. She just looks at him like she is thinking "give me a break. You're not so tough." He follows us everywhere and is quite a lap cat. ~Barbara
Taffi
Taffi has now gotten herself on a schedule so she's active when we are. She loves laying on the sofa in the living room. When we wake up, she is already in her spot on that sofa. From there she can watch (with interest) everything we do. She also gets lots of attention all day long. She is more physically active in the evenings. She walks around and comes up to us with a 'meow' to say she wants to be petted (or maybe 'give me a snack'). She uses her scratch box in the evenings and plays a little game like hide and seek. She'll run out of sight to the other side of our kitchen 'island'. I'll say "where's Taffi?" and she'll come running to get a pet, then scamper around the 'island' again. She'll do this about 4 times then be off to play 'catch me if you can' with the dog. She's still afraid of our screened in patio. I know someday I'll see her out there sunbathing. ~Lois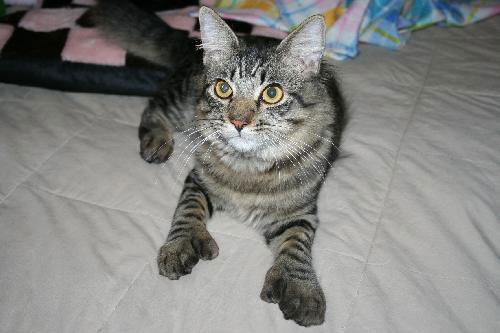 Truman
Truman's new owner came in with her husband to get herself a cat as her bithday present. Here's what she had to say after bringing him home: Thank you so for letting me adopt Hairy Truman -- love his pictures! We let him roam the whole house and smell everything, and we played for hours! Alan was on the computer and he made himself quite comfy on the desk, and then I checked my email, and he decided to join me and put his paws and head on my left hand and had a good nap. He is very loving! I have had a most wonderful Birthday! ~Jeanne
Toby James
Toby's nickname by his foster's friends was puppy kitty. He loved attention from everyone, and would follow you around like a dog. His new home had four college guys, and he gets along great with anyone who comes to visit. Here's an update from his new owner: I must say this cat is one cool cat. He is awesome. Everyone loves him! He likes my room and likes sleeping in my bathroom for some reason. He doesn't scratch anything, and is very good with not waking me up at night. I try to exercise him a little bit at night as he likes to chase his leash. He's been great.
Click a letter to find an animal or
view all
.