KitKat's Web Page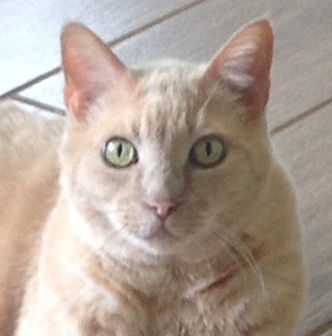 Status: This animal is no longer shown on this website.
Breed:
Domestic Short Hair (short coat)
General Potential Size:
Large
Current Age:
15 Years 4 Months (best estimate)
Indoor or Outdoor:
Indoor Only
Description:
KitKat's family moved away and left him on his own to fend for himself outside, even though he is a front declaw, and can't really catch anything to eat, or know how. It's believed he was outside about a month when he found an elderly woman walking. He's was hungry and she got him fattened up! The cats in her home picked on him so he couldn't stay. We placed him in a home and 2 years later due to health reasons the owners need to find him a new home.

He loves to talk and be talked to. He is a gentle quiet cat who plays a little. He's 17 pounds so a big guy!!

It's a tough road for a declaw in a foster home where other cats have claws, so we MUST rehome him quickly from his current home.

Kitkat is a lap kitty as you see in the picture.

Kitkat needs to be placed QUICKLY so please spread the word about this nice guy!
Please contact Mona at: meowmail1@gmail.com
Other Pictures of KitKat (click to see larger version):

343.7k

223.8k

20.9k

1524.4k

88.6k