Gazelle's Web Page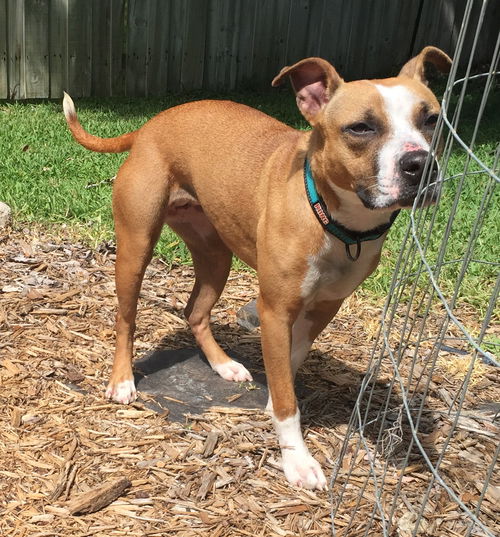 Status:
Available for Sponsorship
Breed:
Boxer / Hound / Mixed (short coat)
General Potential Size:
Medium
Current Age:
7 Years 9 Months (best estimate)
Activity Level:
Highly Active
Indoor or Outdoor:
Indoor Only
Description:
This sweet girl was found running down the road dragging 15 feet of chain.

She had scars and fresh wounds on her head, we don't know for sure if that's because of dog fighting prep - all our input from dog rescues say it is. She was underweight and had extremely long nails, and had been kept on a metal or plastic floor because her toes were splayed out (i.e., tendons stretched from no traction). And.... Her toes are normal now!
We got her a nail trim, bath, shots, hw tested negative, spayed, and are training her. She had no manners at all and is aggressive toward new people - basically because she was unsocialized -- she is improving "some".
She wants to please and is safe with non-aggressive dogs, although she will try to dominate. We are working on that. She is learning the word "no" a lot!!!

She does approach cats in too much of a lively manner and will startle them. She will chase if they run. We're working on that, too!

Gazelle has learned to "sit", "go in" (her crate),"down", "roll over", & "high five" on command. She has also put on weight & looks great!

We've had local trainers donate some time to work with her. Other trainers we have hired to help. All say she is doing well considering where she came from!

She eats tissues and tries to eat cat toys. So yes, she has had some syringes of Peroxide to force her to puke them back up. Sigh.

She loves to play with anything that squeaks. She will eventually chew the squeaky part out then become uninterested. Due to her being what is called a 'power chewer' we have to get the tough toys like Kong brand.

If you want to help with Gazelle's expenses, you can donate to our rescue and specify it's for her expenses, but she is not adoptable at this time due to fear reaction.

Contact Mona at meowmail1@gmail.com
Other Pictures of Gazelle (click to see larger version):

933.6k

1624.2k

665.9k

816.3k

1063.7k

704.2k

1489.2k